Calvin Klein City K2G23161 watch
Product parameters:
General
Country of origin:
Switzerland
Bracelet
Surface:
polished/brushed
Case
Surface:
polished/brushed
Movement
Caliber:
ETA (Swiss Made)
Package contents:
original watch
original box (type varies according to the watch collection)
multi-lingual operating instructions
international warranty booklet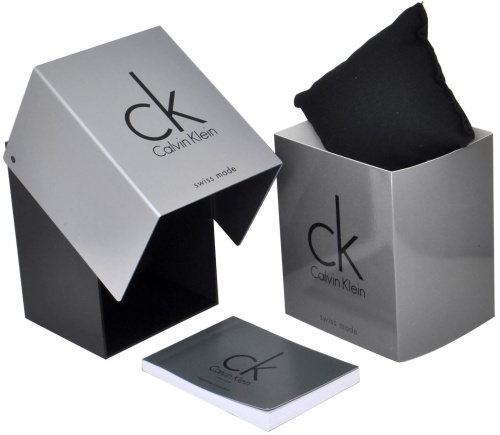 Calvin Klein Inc. is an American fashion house founded by the fashion designer Calvin Klein and childhood friend Barry K. Schwartz. Klein founded Calvin Klein Ltd. in 1968 and first he produced collection of "youthful, understated coats and dresses" featured at the New York City store Bonwit Teller. Calvin Klein appeared on the cover of Vogue magazine in September 1969.
During 1971 Klein had addend sportswear, blazers and lingerie to its women collection. Two years later he received his first Coty American Fashion Critics Award. He was the youngest recipient of this award at that time. He won the award again in 1974 and 1975.
After the company signed licenses for cosmetics, jeans, and menswear, Kleins annual retail volume was estimated at $100 million (equivalent to $395 million in 2017). Calvin Klein and the Swatch Group pooled their formidable talent in 1997 to create cK watch, a watch brand with graphic lines that are striking, refined and contemporary. In mid-December 2002, Calvin Klein Inc. was sold to Phillips Van Heusen Corp.
You might also be interested in…