Hamilton Open Heart Auto H32565135 watch

Product parameters:
General
Country of origin:
Switzerland
Dial
Luminescence:
hands and indexes
Bracelet
Surface:
polished/brushed
Case
Surface:
polished/brushed
Movement
Frequency:
28 800 beats/hour
Package contents:
original watch
original box (type varies according to the watch collection)
multi-lingual operating instructions
warranty card (certificate)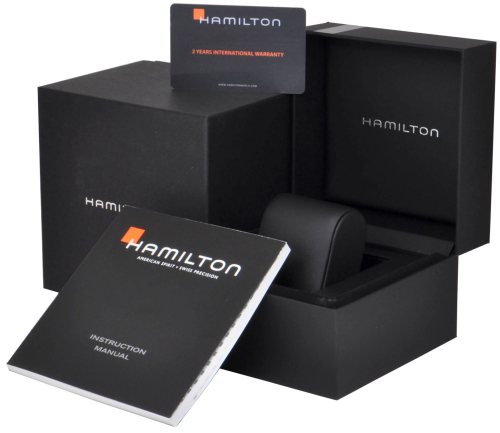 The Hamilton Watch Company had its genesis as an American watch design and manufacturing company, which incorporated in 1892 and produced its first watch in 1893.
The company s first series of pocket watches, the Broadway Limited, was marketed as the "Watch of Railroad Accuracy," and Hamilton became popular by making accurate railroad watches. During the expansion of the railroads in the U.S., Hamilton maintained over 56% of the market. Railroads purchased all of Hamilton s production.
As the market switched from pocket watches to wrist watches after World War I, the company manufactured wrist watches. During World War II, Hamilton retooled its business model to serve the military, dropping its consumer products.
During World War II, production of consumer watches was stopped, with all watches manufactured being shipped to troops. More than one million watches were sent overseas. The company was extremely successful in producing marine chronometers and deck watches in large numbers to fill the needs of the United States Navy, and other Allied navies as well.
In 1969, the Hamilton Watch Company completely ended American manufacturing operations with the closure of its factory in Lancaster, Pennsylvania, shifting manufacturing operations to the Buren factory in Switzerland.
Today Hamilton belongs to the Swatch Group. There, Hamilton is of historical importance because in 1974 it became the third company of what was to later become the Swatch Group.
You might also be interested in…