Orient FTV01003B Chronograph watch

Product parameters:
General
Water resist:
100 m/10 bar
Dial
Luminescence:
hands and indexes
Bracelet
Surface:
polished/brushed
Case
Surface:
polished/brushed
Package contents:
original watch
original box (type varies according to the watch collection)
multi-lingual operating instructions
international warranty booklet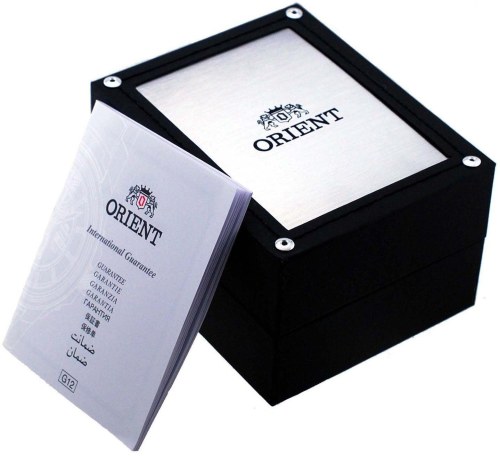 Orient Watch has been an integral part of the watchmaking world since 1950. At the time in question, Shogoro Yoshida founded Tama Keiko Co in Tokyo after several decades of selling watches from foreign manufacturers. The following year, Orient has adopted its current name.
Among fans of watches, the term Orient stands for high-quality yet affordable time-measuring devices. The primary production is focused on mechanical watches with both automatic and manual winding. However, the offer also includes quartz pieces and models with a hybrid drive known as Energy Recovery System.
From this point of view, the offer is very similar to Seiko and this, indeed, is no coincidence at all. Orient has been a subsidiary of Seiko Epson (a part of Seiko Group) since 2001. Since the beginning of 2017, Seiko Epson has been its sole and therefore 100% owner.
The diversity of designs by Orient is truly admirable. Both fans of elegant style watches and lovers of sporty models will be satisfied. Representatives of the first category should not overlook the collections under the names of Bambino, Esteem and Envoy. Orient Star is then renowned as the showcase of the manufacturer where you can find only the best pieces of his production.
Those interested in diving watches will certainly be enchanted by the Mako, Kano or M-Force series. On the other hand, fans of fast cars will appreciate the Speedtech model line, which is able to measure time spans with an accuracy of 1/100 second.
You might also be interested in…